It has been 140 years that Michelangelo's David has been housed in the specially built Tribuna in the Academy Gallery in Florence to protect it for prosperity. Inaugurated in the summer of 1882, the exhibit has exalted one of the most extraordinary masterpieces in the history of art made by the hand of the Florentine genius, Michelangelo.
Let's step back to the 16th Century
---
Named 'the Giant', a five-and-a-half (5.5) metre marble block considered damaged goods in 1464 by the Opera del Duomo, was reconsidered after thirty-five years laying in their courtyard. Artists of the 'moment' were each evaluated and considered for the new project, names such as Andrea Sansovino, Leonardo da Vinci and, Michelangelo Buonarroti.
In 1501, the Opera del Duomo commissioned Michelangelo for the project, and from this single block of marble referred as 'the Giant', the genius isolated himself to create 'David', now considered the most iconic masterpiece of the Renaissance.
Figuratively focussing on balance, harmony, and the ideal male form, Michelangelo's David, is reflective of these artistic sensibilities through his lifelike, asymmetrical pose, and his realistic and detailed anatomy.
A statue five metres high, weighing over five tonnes. David was completed in 1504.
Let's learn a little about the genius, Michelangelo Buonarroti
---
It's difficult to comprehend that at the age of 26, Michelangelo began the statue of David, completing him at 29 years of age.
Born in 1475, Michelangelo di Lodovico Buonarroti Simoni spent his childhood in Tuscany. Considered a key artist of the Italian High Renaissance, his talent was clear from a young age, trained in both painting and sculpting. Raised at his father's marble quarry, one would understand his love of marble and creating beautiful things. Throughout his teens, Michelangelo learned from many prominent Florentine artists, apprenticing and absorbing as much as he could from them.
Prior to David, Michelangelo had created another successful piece, in 1498, he began sculpting his first Pietà (a depiction of the Virgin Mary supporting the body of the dead Christ) for French cardinal, Jean de Bilhères. This piece remains one of Michelangelo's most important works.
Where is David now?
---
On the completion of David in 1504, the statue was placed outdoors in Florence's Palazzo della Signoria, standing as a symbol of strength and defiance. Three centuries later in 1873, David was moved to his permeant home, inside the hallowed halls of Tribuna in the Galleria dell'Accademia di Firenze. He was inaugurated in 1882.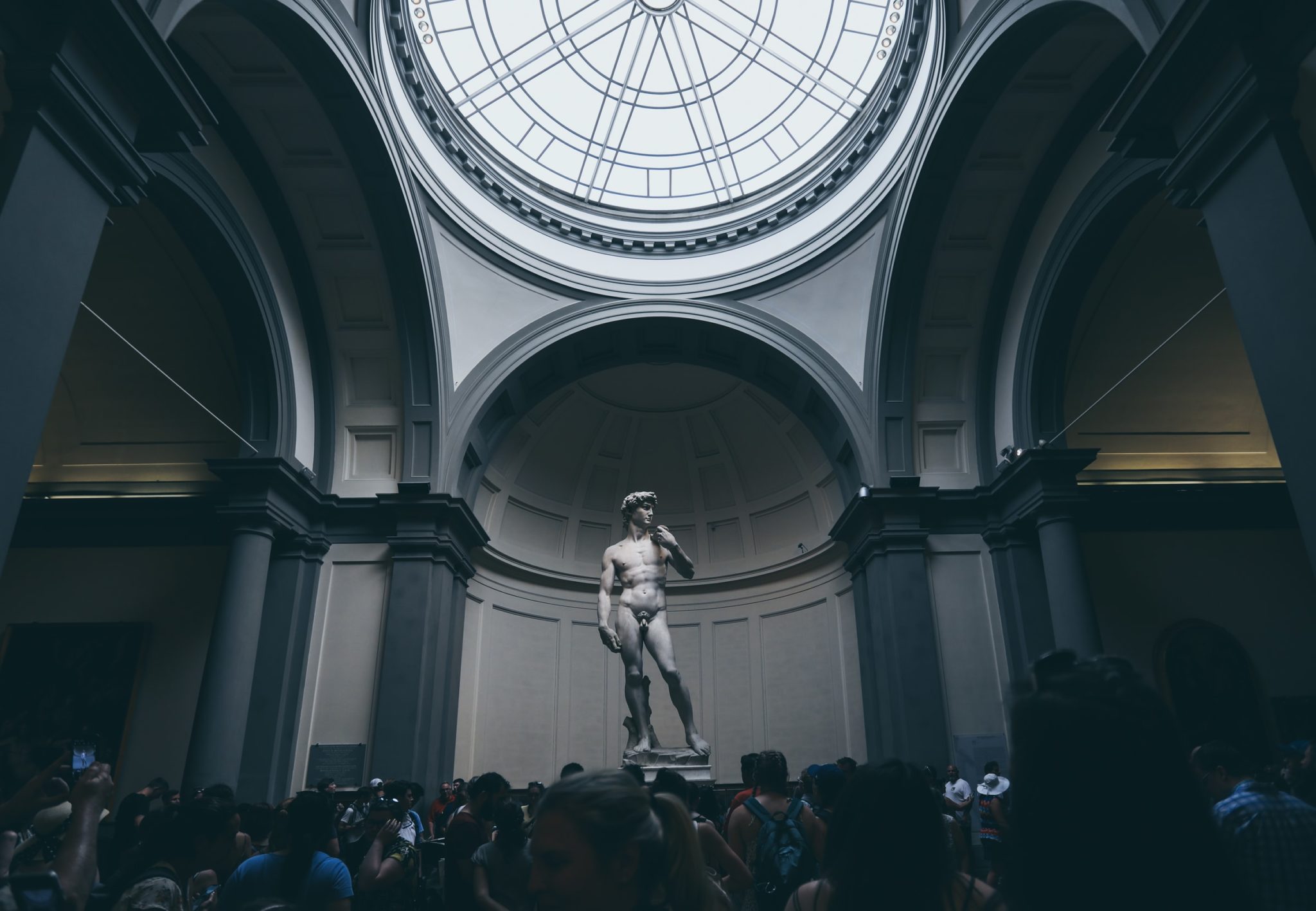 To celebrate 140 years of Michelangelo's David, the Gallery's Director, Cecilie Hollberg, has organised a programme (starting in May 2022) with both national and international musicians, art historians and intellectuals, paying tribute to one of the most iconic and important sculptures in the world. The events conclude June 27 with author and performer, Patti Smith, in a special musical reading, a tribute to Michelangelo's genius.
Visit the Academy Gallery
---
Want to learn more about the artists of the Italian Renaissance and visit David at the Galleria dell'Accademia di Firenze? Vita Italian Tours feature a stop in the breathtaking city of Florence, on several of our small group tours. We also devise tailor made private tours and itineraries for travellers wanting a personal experience with only the best local guides. Let us help you explore the city's rich history, culture, and art.