San Gimignano is one of those magical places where you feel like you are walking back in time. From the moment you set foot through the medieval gates, you are greeted by impeccably preserved stone houses and palaces, small cobbled alleyways, piazze, fountains and of course countless towers. Well actually 14 surviving towers to be exact, but there were once as many as 72 towers built by prominent families as a sign of wealth and prestige. San Gimignano rose to prominence between the 11th to 13th centuries as an important stop for pilgrims on their way to Rome along the Via Francigena. Not too much has changed through the centuries with travellers to Italy today placing a stop in San Gimignano high on their wish list.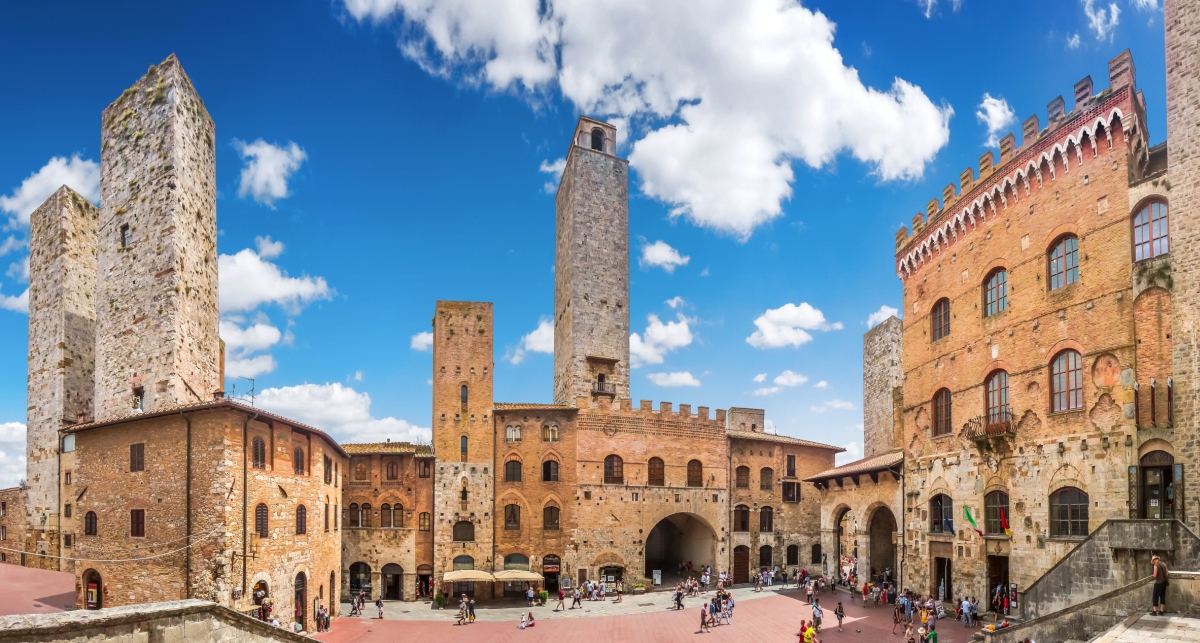 ---
A Personal Love Affair
It is a city that holds a very special place for me and my family. My parents chose San Gimignano as one of our bases nearly 22 years ago for our Italian family holiday. We stayed in a little apartment near Porta San Matteo, the northern gate of the historical centre. It was the end of October, the weather was getting cooler. I remember the nights and early mornings being particularly cold as our quaint apartment had high ceilings, terracotta tiles and only a log fire for warmth. I remember my father remarking how reasonably priced the short-term rental was. We quickly found out that whatever the owner lost in rental they almost certainly made back by charging us for every log of firewood we used to heat the place. An honest oversight. We still laugh about it today.
In the early 2000s San Gimignano was not the tourist hub for the throws of large coach groups as we know today. In fact, from memory, there were very few tourists to speak of at that time of year. It felt like we shared the town with the local inhabitants and shop keepers and were welcome guests in their home. It was beautiful to view daily life of people shopping and meeting for coffee. For my sister and I as teenagers this ancient city held a sense of wonder of a medieval past that we had only read about in books or seen in films. My father Mario was already dreaming of starting a tour company being so inspired by this and so many other hill-towns and villages we had visited during our stay.
---
What To See
More than just towers San Gimignano rewards the visitor with stunning panoramic views of the quintessential Tuscan countryside. It has an abundance of art and handicrafts workshops as well as a rich assortment of sumptuous local delicacies.
DUOMO. The Duomo of San Gimignano is worth a visit. It is located in the heart of the historical centre. It contains beautifully decorated frescoed walls and chapels from the 14th and 15th centuries. The combined Basilica and museum ticket will set you back about €6 with all proceeds going to the preservation of the church.
PIAZZE. Like all Italian towns and cities, the piazze or town squares are the focal points of the city. San Gimignano boasts many beautiful Piazze such as Piazza della Cisterna, Piazza Duomo or the sometimes less frequented Piazza S. Agostino or Piazza delle Erbe. One of the great Italian experiences is sitting in a Piazza with a coffee or aperitivo passing the time and taking in the world around you.
TOWERS. San Gimignano is synonymous with its towers. The silhouette of these magnificent medieval skyscrapers can be seen from afar as you approach the hill-top city from every direction. Of the 14 surviving towers, there are only a few you can climb; Torre Grossa, the highest tower in San Gimignano has sweeping aerial views of the town and the Tuscan countryside. It is also possible to see the view from the top of the 42m tall Torre Salvucci Maggiore in Piazza delle Erbe in the centre of the city. Although it will set you back a bit for the pleasure, as a nights' stay in the 11 floor 143 step medieval tower ranges $600 – $1,000 dollars AUD a night to stay depending on the time of the year. A lavish but surely incredible experience to stay in a UNESCO recognised tower.
---
What To Eat & Drink
Gelato is synonymous with San Gimignano and although there may be many places that serve gelato there is only one place to go and that is the world renowned Gelateria Dondoli in Piazza della Cisterna. Don't let the long lines deter you, this gelato is worth the wait. Master Gelato maker Sergio Dondoli has won numerous awards and accolades around the world including the World Ice Cream Championships twice as part of the Italian team. Dondoli uses only the finest ingredients from around the world for their gelato such as vanilla from Madagascar, organic saffron and raw milk from their own cows! My recommendations are two of their signature flavours; Crema di Santa Fina and the Vernaccia Sorbet made with the famous local white wine.
About that famous local white wine, no trip to San Gimignano is complete without tasting the Vernaccia di San Gimignano. Made from the Vernaccia grape which is grown on the gently undulating slopes surrounding the city, Vernaccia was the first ever Italian wine to receive DOC certification back in 1966. It is a light and delicate dry white wine best enjoyed with typical San Gimignano antipasto such as Pecorino Stagionato aged sheep cheese and Spala a cured shoulder ham.
---
Getting There
Part of the charm of San Gimignano is that the surrounding countryside is not ruined by large freeways or train lines. That makes getting to San Gimignano best by car. It is about an hour from Florence and 45 minutes from Siena. There is a local bus from Siena and Florence or by train you can get as far as Poggibonsi before getting a local bus the rest of the way to San Gimignano.
---
Join Us
Our annual small group tour: Best of Tuscany, Umbria & Le Marche departs every Autumn which is a wonderful time of year to visit Italy. The tour enjoys a visit to San Gimignano as well as in depth off the beaten path journey through Tuscany, Umbria and the region we call home in Italy, Le Marche. We also devise private chauffeur driven tours and self-drive itineraries for the independent traveller wanting to visit Tuscany and other regions of Italy.
Contact us today to plan your visit
Written by. Gianni Vitellone – Director/Tour Leader of Vita Italian Tours